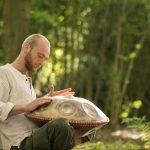 The uniqueness of Clemens' instruments finds its roots in the uniqueness
of his being.
Just as open-hearted, warm and calm he is, so are his instruments.
When i play my Soulshine handpan, i feel my soul shine.
During the last years i played instruments from many different makers,
but the experience i have with Clemens' creations is extraordinary.